CURRENT EVENTS

Savvy Dementia Caregiver Training (1/20, 1/27 & 2/3 2018, Sat. 9:00 am - 12:00 pm)

— CACCC teams up with

Alzheimer's Greater Los Angeles for the first time to offer a 9 hour "Dementia Caregiver Training" course. The course is free to those who are currently taking care of a dementia patient. Please call

626-277-5775 / 866-661-5687 to register

or register online at

http://evite.me/N5Tp3PJ8MW

.

The class is limited to 15 participants, first come first serve.

Location: CACCC LA Office

9440 Telstar Ave. #6, El Monte, CA 91731.
Caregiving: The Circle of Love

— CACCC co-sponsors two documentary viewing events on

Friday, November 3

and

Saturday, November 4, 2017 10AM to 12PM at Quinlan Community Center, Cupertino and Akiyama Wellness Center, San Jose

, respectively. Both events are FREE, please register in advance at

aarp.cvent.com/AARPCircleofLoveNov3rd

for 11/3 event and

aarp.cvent.com/AARPCircleofLove

for 11/4 event. Please see

flyer

for details.
The Alzheimer Great Los Angeles gave a seminar in Mandarin titled "

Keeping Your Brian Healthy

" at CACCC LA office at 9440 Telstar Ave., #6, El Monte on Saturday,

October 21, 1:30PM to 3PM

. It was followed with the quarterly volunteer meeting.
CACCC Southern California Office opens to the public on every Thursday at 10:00 am - 12:00 pm. We help you understand what is Advance Care Planning, Advance Health Care Directive (AHCD), Physician Orders for Life-Sustaining Treatment (POLST), Hospice and Palliative Care. Please call

866-661-5687

for reservation. CACCC Address:

9440 Telstar Ave

., #6, El Monte, CA 91731
NEWS

CACCC Website has a brand new look! We redesigned the entire website with an intention to make the navigation easier and more user friendly. Please browse through it and let us know how you like it. If you have any suggestions or questions, please

email the webmaster

.
Sandy Chen Stokes, founder and the board chair of CACCC talked about AHCD (Advanced Health Care Directive) on UChannel. Please see the entire interview

here.
CACCC is proud to announce it will be conducting a 30-hour Chinese Hospice volunteer training program in Sacramento. The extensive 30-hour training program dates in the Sacramento area are: June 17 &18 at Dignity Health in Carmichael; June 24 and June 25 at Kaiser Permanente Medical Center in Roseville.
Read More …..
Palliative Care Coordinator

position available at Saint Francis Memorial Hospital. Please click

here

for more details.
CACCC Founder and Board Chair Sandy Chen Stokes

was presented with the

2017 Compassionate Care Innovator Award

for her extraordinary role in improving the quality of advance care planning and palliative care in

California at the CCCC 9th Annual Summit held on March 13-14, 2017, in Sacramento, CA. Sandy was one of the 2017 Summit Leadership Award honorees selected by Coalition for Compassionate Care of California (CCCC). For over 11 years, Sandy has devoted herself to building a community in which Chinese Americans are able to face the end of life with dignity and respect.

from left to right:
Sandy Chen Stokes, Judy Thomas, JD, CEO of CCCC and Phil Stokes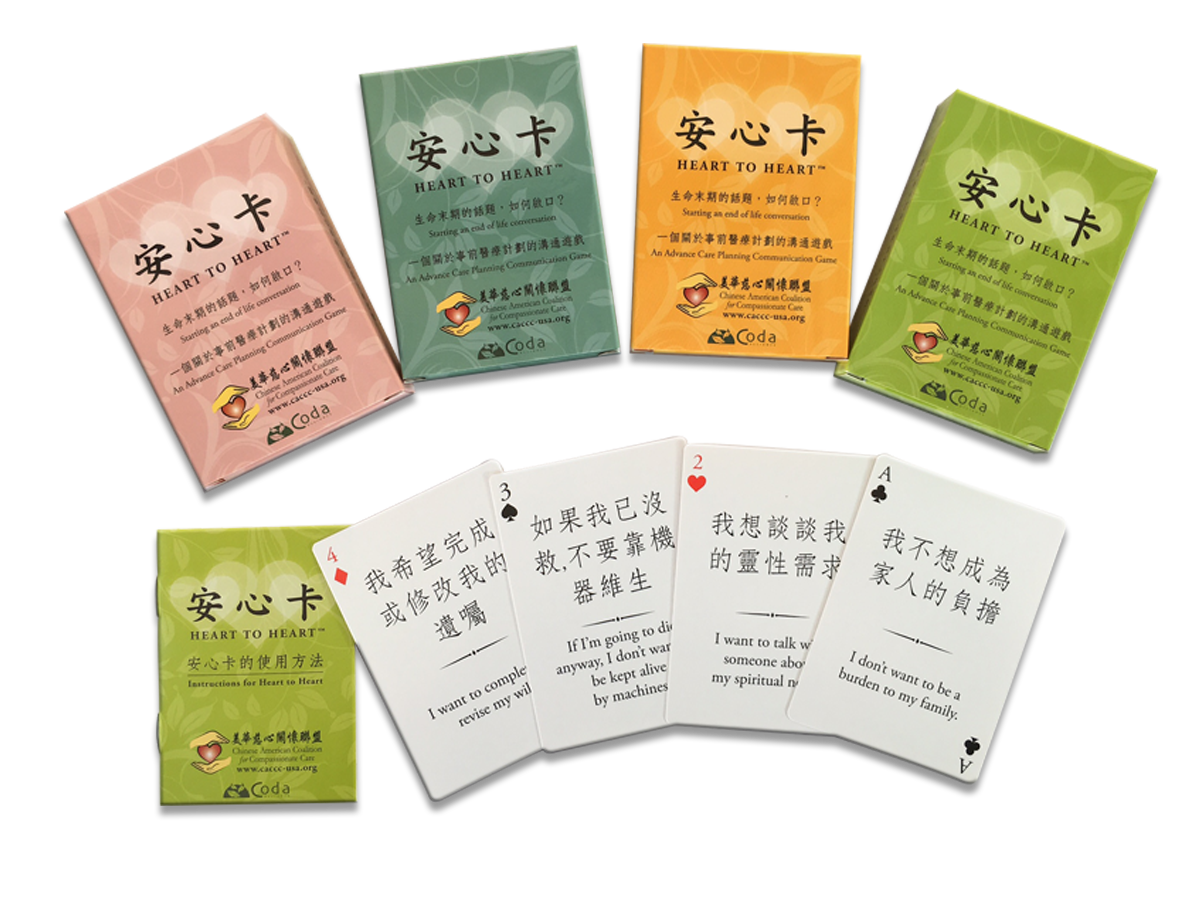 admin@caccc-usa.org
Toll Free Number
免費電話
(866) 661-5687
Leave a message and someone will contact you.
請留下語音,我們會跟您連絡
P.O. Box 276,
Cupertino, CA 95015

9440 Telstar Ave., #6
El Monte, CA 91731